---
---
An ideal tool to perfect your swing so you can get the score you want, every time you step onto the course.

The Golf Swing Strength Trainer is designed to improve swing tempo, strength, and flexibility. The exaggerated flex in the shaft helps lengthen your swing by keeping your hands and arms extended. This creates power to help you bomb your drive and gain more distance. The extra flex also encourages a slight lag at the top of your backswing, establishing the ideal swing tempo. The momentum the weighted head creates when swinging through encourages proper weight transfer and a full follow through for form, balance, and power.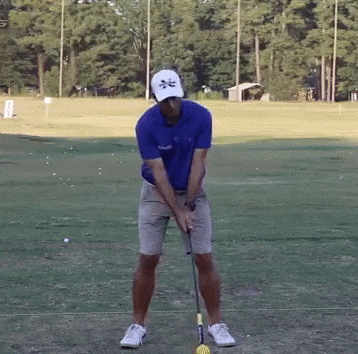 INCREASE BATTING POWER
This trainer helps youth players increase power, control bat speed, and muscle memory. Receive instant feedback on how much power is needed for every hit as players improve their hand-eye coordination and focus.
DEVELOP SWING MECHANICS
This trainer develops and refines your youth players' technique. This training aid is perfect for right and left-handed batters, or for switch-hitting. With instant visual feedback to perfect your swing.
SIMULATE A VARIETY OF PITCHES
Ideal for one-on-one coaching, you can provide complete control for your batting target. Practice hitting high, low, inside, and outside pitches so, your hitters can handle anything that is thrown their way.
IMPROVE CONFIDENCE AT BAT
Give your players the tools they need before stepping up to the plate. With this trainer, they can practice perfecting their swing before game day. Improve confidence and bring your team to the next level.
UPDATE: Due to the huge increase in social media attention, we're running extremely low on these. Because of high demand, your order may take up to 2 - 4 weeks to arrive. So hurry and order now before it's all gone! 
AN AMAZING CAUSE
We're thrilled to partner with 

DonorSee

 - an amazing charity that helps people in the world's poorest countries. Every month, a percentage of our profits go towards a good cause!
With Good Times you can enjoy:
Lighting fast delivery
worldwide shipping
24/7 customer support
30-day money back guarantee
Insured tracking via USPS
---